Papua-Insects.nl
The Papua Insects Foundation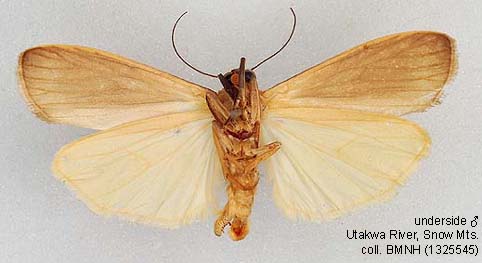 ---

The Tigermoths (Erebidae, Arctiinae, Lithosiini) of Papua Indonesia

by Rob de Vos

Eilema plana (Boisduval, 1832)

[Lithosia plana Boisduval, 1832] [type: not located]

Ilema costistrigata Bethune-Baker, 1904 [syntypes: Dinawa, Ekeikei, Aroa River, PNG, BMNH]
Brunia repleta Lucas, 1890 [holotype: Brisbane, Queensland, Australia]


---

Distribution
STATUS: The genus Eilema needs a thorough revision for the New Guinea species. It is to be expected that many sibling species will be discovered. Eilema plana is probably widely distributed but many look alikes may be misidentified among them.

PAPUA LOCALITIES: New Guinea: Foja Mts., Jembatan Dua (Cyclops), Tanah Merah, Utakwa River, Walmak, Warkapi. Details in gazetteer.

EXTERNAL DISTRIBUTION: Papua New Guinea, Australia.

DATA SOURCES: BMNH, KSP, ZMAN. Literature (see below).
---

Literature
Bethune-Baker, G.T., 1904. New Lepidoptera from British New Guinea. Novitates Zoologicae 11(2): 367-429.
Boisduval, J.B.A.D. de, 1832. Voyage de decouvertes de l'Astrolabe, execute par ordre du Roi, pendant les annees 1826-1829, sous le commandement de M.J. Dumont d'Urville. Faune Entomologique de l'Ocean Pacifique, avec l'illustration des insectes nouveaux recueillis pendant le voyage. Premiere Partie. Lepidopteres. J. Tastu, Paris: 267 pp.
Draudt, M., 1914. In: Seitz, A. Die Gross-Schmetterlinge der Erde 10: Spinner und Schwarmer des Indo-Australischen Gebiets, Arctiidae (publ. 1907-1933): 134-223. A. Kernen Verlag, Stuttgart.
Edwards, E.D., 1996. In: Nielsen, E.S., E.D. Edwards & T.V. Rangsi, 1996. Checklist of the Lepidoptera of Australia. Monographs on Australian Lepidoptera, Arctiidae 4: 1-529 [278-285].
Hampson, G.F., 1914. Catalogue of the Lepidoptera Phalaenae. Supplement, volume 1. Catalogue of the Amatidae and Arctiadae (Nolinae and Lithosianae) in the collection of the British Museum. British Museum, London: 858 pp.
Strand, E., 1922. Lepidopterorum Catalogus 26: Arctiidae: Subfam. Lithosiinae. W. Junk, Berlin: 501-899.